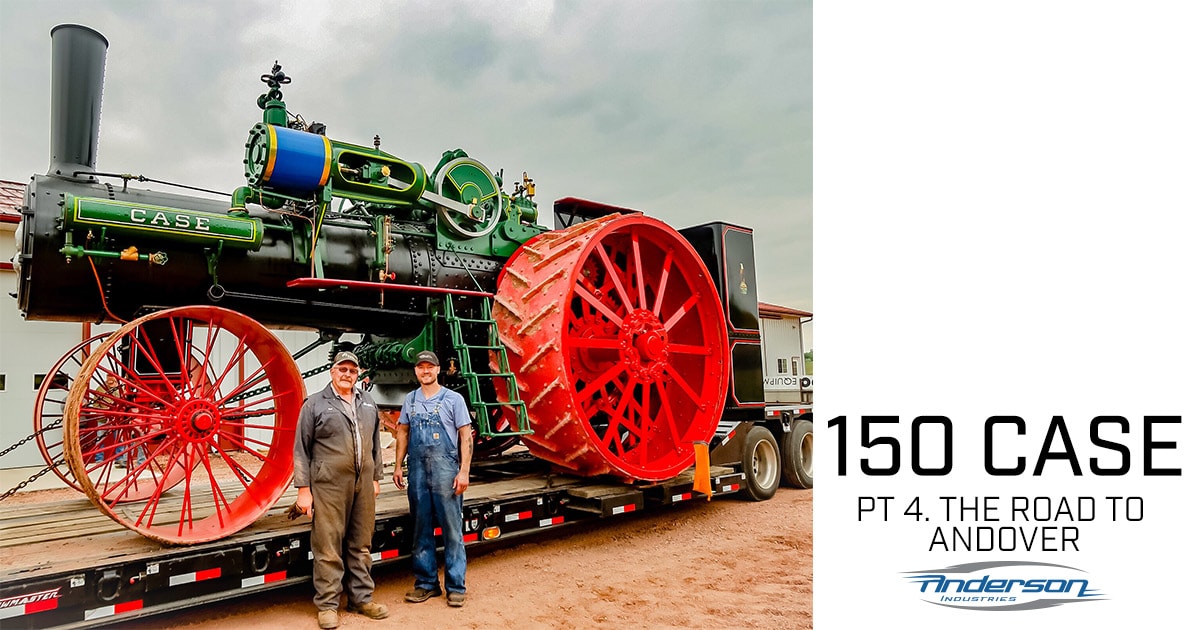 150 Case Part 4 – The Road to Andover
By Kory Anderson
It has been a hard pull all summer working seven days a week to get the 150 Case assembled and the final parts cast and machined. I was blessed with a great team to help get the job done and a number of friends who came out to help as needed.
We lit the first match on 8/18/18 and fired it for four days running, testing, and breaking in the engine and gearing.
We belted to the Baker Fan on the small pulley to get the most load we could on it. Even pulling the fan as fast as the 8" belt would hold, we calculated over 100 HP and we still could not hear the engine exhaust. The engine ran perfectly, we didn't have trouble with any bearings heating and the valve setting was spot on.
We drove around to break in the mesh on all the large open gear teeth, this will be the longest part of the break in process to get all the additional gears for the two speed wore in good.
RDO Equipment offered to haul it home for us donating their time and equipment to support in the project. Mark Davidson who has hauled for John Deere for over 40 years showed up on 8/21/18 and we got the engine loaded that evening while still under steam. The morning of 8/22/18 the 150 Case headed down the road for the first time to make it home in Andover, SD ready to go to work!
It is still incomprehensible the size of this engine. After working on it everyday you become immersed in the size of it, once in a while I would have to go to Gary Bradley's engine shed and stand beside the 110 Case (which seems small in comparison) to get back to real perspective.