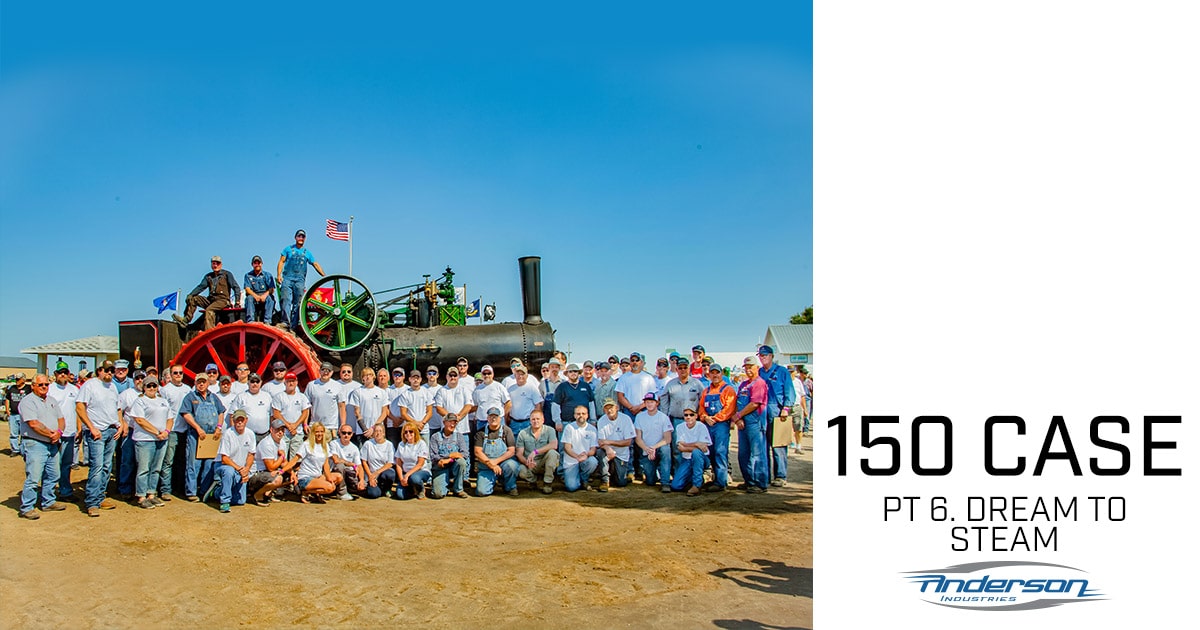 150 Case Part 6 – Dream to Steam
By Kory Anderson
This past year has truly been a blessing. Realizing a lifelong dream and bringing the 150 Case back to life after being lost in history was an incredible experience. There is something truly amazing and inspiring that has taken place during this project. Something that without it the 150 Case would still just be a dream.
This something started on March 31st, 2017 which was the start of the actual build of the 150 Case. On an annual visit to my friend Gary Bradley's in Sheridan, WY. I had packed a couple of castings we had made for the 150 along in the event we ran out of things Gary had to work on. That day would dramatically change both of our lives for the next 16 months.
After machining the couple castings I had along, Gary said "If you get more castings made come on out". So I did two weeks later and about every couple weeks for the next year and a half.
By early 2017, I had already defined the end state in my mind that the 150 Case was going to be at Andover 2018. I just didn't know how, where, or who it was going to take at the point to achieve it.
Gary has a first class shop for working on steam engines and I always enjoyed working with him on projects. His knowledge, attention to detail, wisdom through experience to take the time and do it right once, and besides that fun to be around inspired me to seek his support on this undertaking. Thankfully he complied without hesitation and the race against time was on.
What I like the most about working with Gary was his determination to drive forward. Whenever we ran into a challenge we found a way and forged through. When I told him we couldn't swing the eccentric strap in his lathe, his response was "Then I'll buy a bigger lathe!" His commitment, support, experience, knowledge, and grit made it possible to complete this project on time.
While machining and assembly was taking place in Wyoming, we had other significant feats to take on. This was the major riveting projects of building the rear wheels, extension rims, and the drawbar. Along with machining the 1400 lb. flywheel. I couldn't think of a better person to lead this challenge than my lifelong friend and mentor Jim Briden.
Ever since I can remember I sat beside Jim on our 110 Case that he operated at our show. When I was just 8 years old, we were grading a new road with the 110 Case pulling an Adams leaning wheel grader. My dad and Danny Roen where running the grader and Jim was driving the 110, with me sitting alongside as usual. Jim had to jump off and look at something and he just slide me over in the driver's seat with the instructions "push the lever ahead to go right and pull it back to go left" and that was the last I saw of him for a couple of passes grading the new road.
Jim always had an innate sense of knowing when I was ready to take the next leap, whether it was running steam engines, sawmills, or a turning lathe. He always inspired and pushed me to learn quickly and not let fear stand in the way. His mentoring and support gave me the skills needed to take on a project like this and the courage to do so.
Jim volunteered his shop and helped to assemble a great team to take on the large riveting projects. Our team for assembling and riveting the drawbar consisted of: Jim Briden, Kevin Anderson, Kelly Muhl, Lewie Larson, Wimpy Anderson, Alex Drechsel, Gary Muhl, Kenny Madenwald, and Michael Bradley. With this team we were able to build and rivet the complete drawbar together in just one day. It is hard to believe it was not even a year as I write this since we were at that point.
A couple months later in early April we built the rear wheels which was a massive undertaking due to the size, weight, and number of rivets it took to make each wheel. Thankfully Jim, Wimpy, and I had built a large rivet squeezer in advance to do most of the heavy riveting otherwise I think our list of friends might have been significantly shorter had we attempted to hammer in by hand 1,200 plus – ¾" rivets.
Our team that was assembled to build the wheels and extension rims resembled something like a well synchronized orchestra of bib overalls. Everything flowed smooth and steady, thousands of hot rivets passed around, gently placed in each hole, and squeezed in for life. This team comprised of Jim Briden, Kevin Anderson, Wimpy Anderson, Garrett Satterly, Mark Pederson, John Pfaff, Rich Kroll, Bob Voss, Bob Johnson, Mark Knox, Gary Muhl, Carl Zachmann, and the bulldog Brian Krog. Brian was underneath, inside, and everywhere you didn't want to be bucking and squeezing rivets where the hot slag and sparks easily found their way down your bibs.
As we started assembly of the 150 Case in July out in Wyoming, my dad joined on many trips. He was the paint striping expert of which we were all glad to have and in charge of shiny objects whistle, injectors, gauge, etc. Jeff Detwiler flew up for a long weekend when we installed the rear wheels. Jack and Colin Beamish came down to help finish details and when we had the first fire up. We had friends of Gary's from Wyoming that helped whenever we needed an extra hand anytime. Steve Patteson who also borrowed us his service truck with crane for installing the rear wheels, Craig Wolsky the local gunsmith and Fred Muller would come around to give a hand anytime we needed it and for moral support whether we needed it or not.
Craig Schmit who would dive in and do all the things nobody really wanted to do. Joe Hanna who would come on Sundays his only day off work to give a hand. For a while that was the only way I ever knew what day it was when Joe showed up in the shop I knew it had to be Sunday. Mike and Joe Bradley both Gary's boys were there anytime we needed heavy lifting. Mike did all the painting of the green parts and was locked in full time towards the end as we were assembling and September was growing near. Nate Barney powder coated all the red and black parts in Sheridan for us with perfect detail.
Trevor Guinter and his team in Manitoba Canada did an extraordinary job building the water tanks and bunkers. John Schrock found and donated all the springs required to assemble the engine. Clyde Hall had donated the remaining power steering castings he had that we could build the steering unit from. The Somerville family had a preheater and governor that was the same as used on the 150 Case. Del Campon, Bob Snaza, Paul Streff, and Chad Helkenn local machinists to Webster, SD all worked helped to machine the large engine frame and differential gear.
Jonas Stutzman and his team had built the boiler for us in 2011 from the original boiler for #14666. That boiler is the only remaining original piece of a Road Locomotive was saved over the years by Carl Logan, Justin Hingtgen, George Hedke, and most recently Jim Briden, Kevin Anderson, Dennis Powers, Kee Groshong, and Mark Pederson. They have since generously given this original boiler to me to preserve and keep together with the now living engine. A duty I will uphold and am very grateful for this gift and for all of those who have preserved it over time.
The team at RDO Equipment who donated the time and truck to haul the 150 Case back home to Andover, SD from Sheridan, WY led and driven by Mark Davidson. Along with the group of mechanics that helped during the last minute crucial moment before the show.
We also couldn't have done this project without my teams at Anderson Industries and Dakota Foundry. Besides making all the castings and many steel parts they took care of business allowing me to stay front sight focused on the 150 project.
I witnessed throughout this entire project something truly remarkable. So many incredible people who volunteered, offered, gave, and rallied together around a shared vision. The unrelenting support especially over the 16 month build was overwhelming. I cannot express enough my appreciation to all of you!
Finally, I want to thank my family for all of their support and especially my Dad and Mom (Kevin and Donna Anderson). Mom has always been my number one fan, believing in me through all the crazy challenges I've taken on and teaching me to lead a life of service to others. When I started on this project and at the same time was starting my business in my garage mom always invited me over for dinner knowing I was a little short time and money. Dad has always been a model setting the bar high for me to strive towards. Teaching me along the way and giving me opportunities to learn and grow. His passion for preserving history and steam engines has inspired me my whole life and drives me to continue on this legacy.
Along with all of these incredible friends that physically helped build throughout the project there were so many more who supported with encouragement, inspiration, and in spirit. One of these was my dear friend the late Dennis Powers. I promised him that we would have whiskey on the 150 Case. Sadly, he left us before I could fulfill that promise so I have already confirmed with God that the gates of Heaven are large enough to get the 150 Case in. I'm guessing there would be a great lineup of incredible steam men and women who would join us there.
To me this project is for all of our great steam friends past and present. For having the passion to preserve the equipment and the stories for generations to come. This engine has been brought back to life as a monument to stand for the legacy of all who have inspired this remarkable hobby we have. Thank you!